Your Library will be closed Thursday, Friday, and Saturday 23-25 for Thanksgiving.
We'll see you on Monday.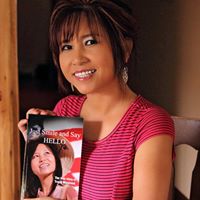 Meet Trang Moreland, author of Just Smile and Say Hello 
Monday, December 4 @ 4-6pm.
Trang Moreland grew up in southern Viet Nam.  At age 21, she immigrated to the United States.
After overcoming language and cultural barriers, she was able to finish trade school and become a successful business owner.
Her present business, Trang's Family Salon, has received much recognition in the community, including the Twin City Chamber of Commerce Business of the Year award in 2011.
Just Smile and Say Hello
"They found him, dead in his bed. Starved to death."
"Rumor has it, he's the third one this week, and it's getting closer all the time." The concern in Grandma's voice was frightening as she added, "I'm afraid one of us might be next."
For the next few nights, I lay wide awake, worrying someone in my family might die. Maybe my mom, or grandma, or brother or a sister—
Maybe it would be me!
Growing up in a hut with a dirt floor, no running water, and no electricity was challenging enough without worrying how long our food supply would last. But these adversities were common in Viet Nam.
I longed for a better life. Maybe I could live in America some day!
But first, I must survive deplorable living conditions, limited resources, and primitive healthcare. But I could dream!
Just Smile and say Hello is a true story—my story—about how that dream came true. It's a journey from poverty to prosperity that spans halfway around the globe and examines two completely different cultures.
The story will reveal my upbringing, the miracle that brought me to the United States, and why I resisted that miracle at first.
I share with the reader the culture shock, and how I turn that shock into knowledge, and knowledge into success.
I hope my story will educate, entertain, and most of all, inspire you. Once you see where I have come from and what I've done, you will realize that nothing is impossible!

The Newcomerstown Chamber of Commerce will be accepting applications for its Toys for Local Tots program until November 18.
Applications may be picked up at the Newcomerstown Public Library.
Other application locations include the Newcomerstown News office, Dale Gress Real Estate office in Newcomerstown, or Century National Bank.
Those applying must live in the Newcomerstown Exempted Village School District or their children must attend our schools.
If applicants are receiving toys from Share-A-Christmas or the Salvation Army, they are not eligible to receive toys through this program.
The group is also accepting monetary donations. To donate, please make a check payable to the Newcomerstown Chamber of Commerce, Toys for Local Tots, and mail it to: Huntington National Bank, 100 W. Main St., Newcomerstown, OH 43832.
Unwrapped new or gently-used toys may also be donated.
Toys will be available for pick up Tuesday, Dec. 12 from 10 a.m. to noon and Wednesday, Dec.13 from noon to 3 p.m. in former Morgan Pharmacy/Shrivers' Pharmacy building on S. College Street, Newcomerstown.
The Chamber will not call each person who signs up to tell them about pick up.
For more information, call 740-498-4545.
www.newcomerstownchamber.com
NEWCOMERSTOWNCHAMBER.COM